LML Annual Celebration in 2022
LML Annual Celebration in 2022
LML's 2021 has gone away with the arrival of 2022. LML has always been moving forward with determination and love.
Looking back on the 2021 we walked together, it was full of joy, touch, and tiredness. We have experienced too much, and we have overcome the difficulties in our work and achieved good results.
Looking ahead to 2022, it is the year of the Tiger, which is a new beginning. We all are looking forward to everything which is worthy of our efforts. In order to celebrate the achievements in2021 and cheer for the coming of the 2022, we hosted an annual meeting feast exclusive to our LML.
On January 8th, Alisa of the purchasing department planned and prepared this annual meeting, including the singing performance dance performance, magic show and other funny activities, which everyone took part in. Let's have a look !
Our large team consists of energetic twenties, gentle thirties, experienced forties and kind fifties people who meet with each other in LML for further dream. We are creative and united with love which exists in everything.
Show Ⅰ Magic Show by Mike
Mystery Magic ! Welcome our talented magician !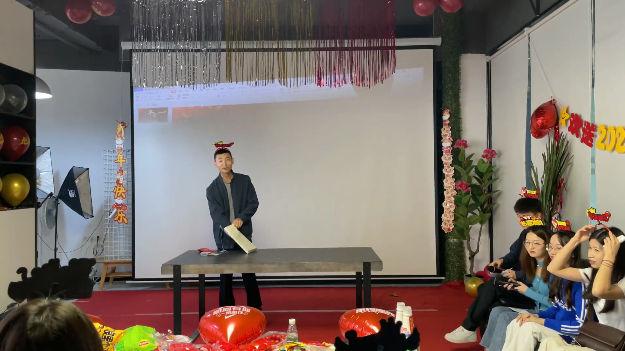 Show Ⅱ Singing Show by Ladies
These beauties all come from the same city ---- Huanggang, Hubei.
The most beautiful expectation tells the beauty of future and our expectation to tomorrow, hoping that everyone in LML will have a better future.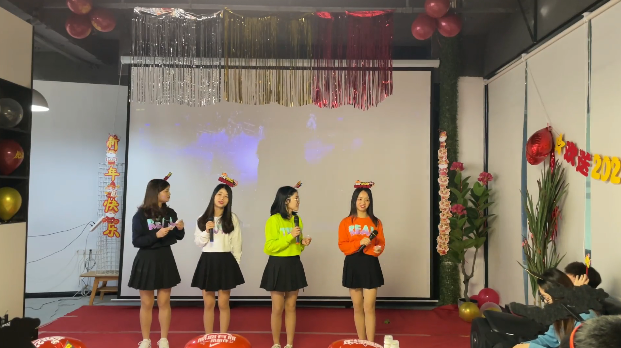 Show Ⅲ Singing Show by Gentlemen
Classic reproduction -- -- Beyond No Longer Hesitate
They put on unique clothes and wear funny sunglasses with special equipment, singing the most emotional song.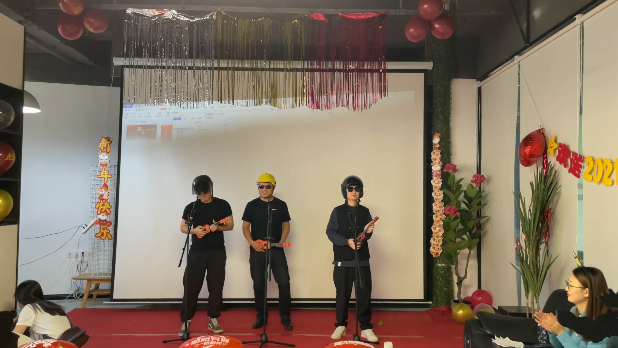 Show Ⅳ Talk Show by Girls- Alisa, Yvonne, Domi
Talented! Intelligent! Interesting!
There are three young girls Alisa, Yvonne, Domi setting up our first Girl Group in the 15-year history of LML. They bring us a very grounded talk-show "Rumors" which is inspired by our common life and work, hoping that everyone can get their own happiness and values.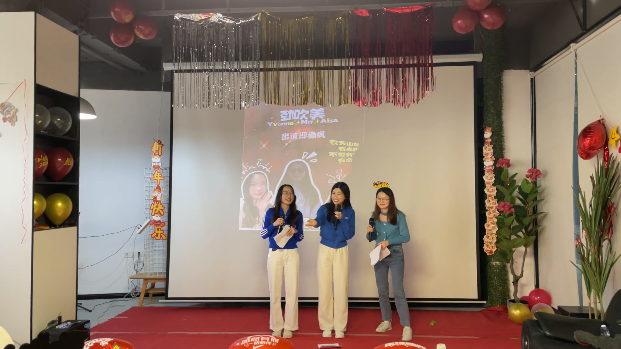 Show Ⅴ Dancing Show by Girls
Blue, Red, White, Green ,Yellow ---- the most colorful, the happiest.
Guided by sales department, this show presents energy and enthusiasm of LML. Though they are not good at dancing, they spent much time practicing it again and again.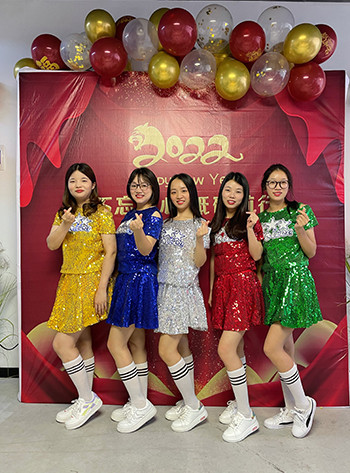 Show
Ⅵ

Reciting poetry in dialects
Using the different kinds of funny dialects to recite is put forward by purchasing department. Combining Chinese traditional literature with local characteristics, two classic poetry bring an aural feast. They come from different cities with their own dialects, by which we can appreciate different cultures.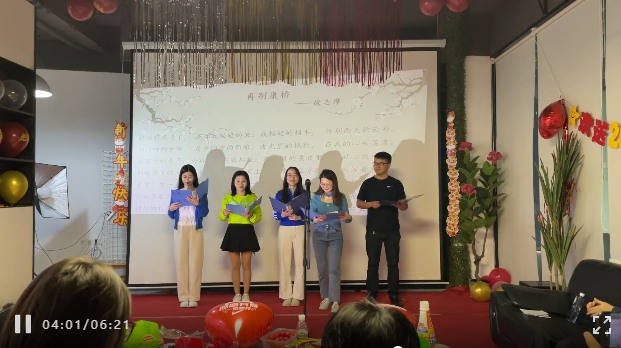 Show Ⅶ Unique homuncule dance
Small person, Big soul.
One more dancing show is coming , performed by these small persons with huge amount of love. Just enjoy the life, the work.
Show Ⅷ Writing Couplets together
The most traditional activity of the Chinese New Year ---- writing couplets
Our main roles are uncle who is busy in cooking for us everyday and Mr. Liu who is an hard-working warehouse manager.
We all celebrate the coming of 2022 with great expectation.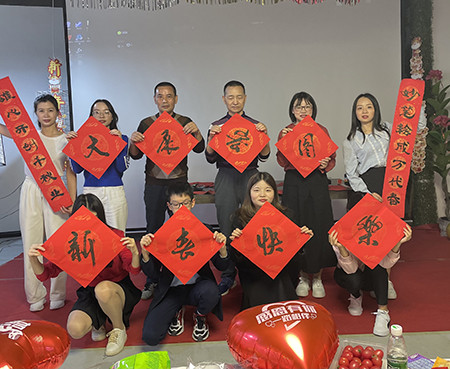 Part3 Speech in 2022 Annual Meeting
Mike: Dating back to 2021, we have experienced a lot, with everything interesting and happy, also encountering something difficult. However, we should focus on these important two points at any time. First, as an responsible person we need to keep thinking how to improve ourselves in every aspects. Second, we should figure out who we serve for and we just do what we should do well.
Helen: That's my honor to accompany LML for 10 years. Great appreciation is given to LML, Mike and those who accompanied us for a long journey, making our lives more exciting and interesting.
Sunny: It has been five years since I came here. I'm very grateful to the company for cultivating me and my partners for their help and tolerance to me. LML will be better and better in 2022. Everyone are healthy and lucky in life and work.
Uncle: You serve different customers from different countries, and you are my customers. I will cook for you forever as long as you are here, which is my duty. Don't let me be laid off!
Seadyn: 2021 is the fastest year I have ever felt, full of happiness and surprise. However, the adjustment of my life has delayed the work, so there are losses and gains last year. The company has witnessed my marriage and children, and I hope that I can grow up with LML.
Mr. Xie: I feel very proud because the purchasing department has recruited new members this year who are really excellent and have helped me a lot. I hope that they can improve themselves better and contribute to the company in the future!
Yu: Very happy to join LML, the lovely team. Honestly, only if someone has compared different companies, we would know where a company good. I sincerely hope that the company's performance will double in 2022, and I can find more talents for the company!
Yvonne: It is the same with me. I'm happy and excited, too. For us who has just graduated, finding a good platform can influence our future and the thought about working, laying the foundation of your work and leading us step by step upwards.
Alisa: Compared with the previous 2 years, I have grown up. In 2021, I got my driving license. As for 2022, I still hope that my relatives and friends around me will be healthy, and then buy a house, buy a car, get married, have children, find boyfriend or girlfriends. Everyone will have a better future.
Domi: I went this beautiful city to make a living in Tangxia. I love this city, just as I love my company, LML. It is also the first year of my transformation from a student to a social worker, from which I have gained a lot. I hope that I will make greater progress in the coming year!
Roger: Honestly, 2021 has great significance for me, since I found my new job, had a new beginning, challenged new things this year. I feel so lucky and honored to join LML. In the upcoming year of 2022, I will love work and life even more, and I wish you all will be happy every day.